Tuesday, November 2, 2010
Thursday, October 14, 2010
My little moleskine journals are ripping because the paper isn't thick enough... so i think i may try digital printing. Most of my work is digital & image based so I guess it makes sense. I'm also a painfully slow writer/annotator so hopefully it'll be ok. Hope it isn't too late in the day for such a decision...


This looks cool and in reality it was probably caused by a bug walking across the screen of the camera


Wednesday, October 13, 2010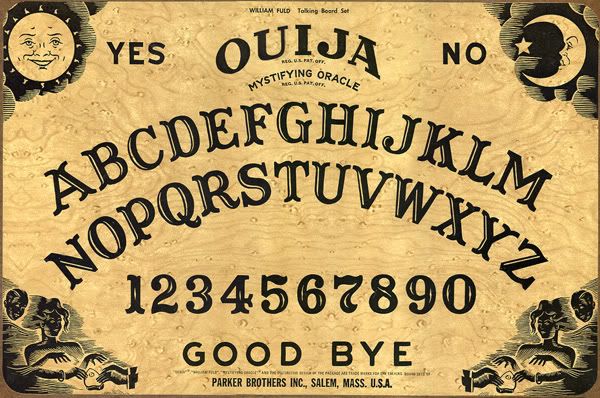 Left: Collection of
antique boards
Right: Internet Parody by Jeffry Rowland
This first video is especially interesting. Mentions 'serious' paranormal societies. (This isn't the first I've heard of this, I know folks who'll actually
wince
if you slip up and mention terms like 'new-age') Anyway, I especially like the mention of the term 'high end' divination tools as opposed to these Boards that can actually be purchased at Toys R Us.
"Sorry, your Ouija Board

™

is from the diffusion line and I only purchase mainline"
. But really, I'm fascinated by the prevalence of paranormal/divination services and products in modern-day society. One of the guys interviewed below is '
the lead investigator at Big Bend Ghost Trackers'
. Yes, a
ghost tracker
. Presumedly a bit like Bill Murray in Ghost Busters. I hope.
To be honest, I don't think these beliefs are founded on anything less concrete than those of other religions.
Great graphic sensibilities: The mystery of basic editing software: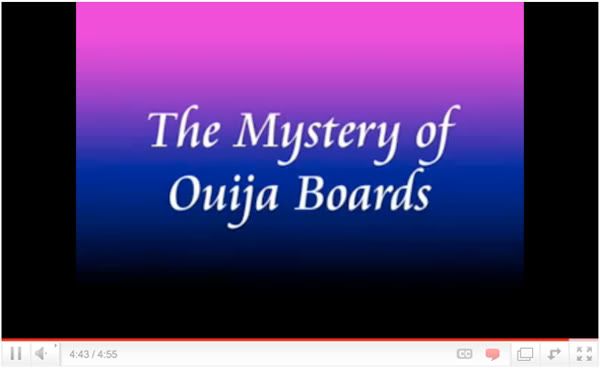 What interests me here is how the spirit fills or enters the pointer/glass. I remember a family friend who claimed she had caught an evil spirit living in her house and she had managed to trap it in a golden box sealed with masking tape. Needless to say this person isn't a family friend anymore. Attempting to rip off
Drop Dead Fred
is disingenuous to say the least:
The 'mud pie' reminds me a little bit of my 'spontaneous alternatives' method :P
I remember using an Ouija board as a kid but I don't really remember much except that you're not meant to think about when you're going to die. Naturally everyone thinks about when they're going to die. Reminds me of '
the game
' or maybe some kind of thinking on the
ocd spectrum
? haha
Christian man terrified about Ouija boards after reading a book about them. In the book spiritualists encourage a christian to use the board. The main character in this book sounds like he suffering from schizophrenia, er, sorry, I mean demonic possession.